Policy to protect personal information
NOMON Co., Ltd. is deeply aware that our customers' personal information is important information that constitutes their privacy as we carry out the sale of nutraceutical products and perform other related business operations. In handling personal information used in our business, we respect our customers and endeavor to live up to their expectations and faith in us by complying with all existing laws related to personal information and internal regulations stipulated by our Company to protect their personal information, as well as by establishing an organizational framework to safeguard their personal information in an appropriate manner.
Acquisition, Use, and Provision of Personal Information
Our Company will specify the purposes for which personal information is used within the scope of our business activities, and we will acquire, use, and provide personal information in a fair and appropriate manner to the extent necessary to achieve these purposes. We will also adopt the necessary precautions to ensure that the personal information we have acquired will not be used for any other purposes.
Compliance with Existing Laws and Regulations
Our Company will comply with all existing laws and regulations, guidelines stipulated by the government, as well as all other standards and social norms related to personal information, and strive to safeguard all personal information in an appropriate manner.
Appropriate Management of Personal Information
Our Company is fully aware of the risks of the unauthorized access, loss, destruction, tampering, leakage, etc., of personal information handled by us. In addition to adopting reasonable safety precautions, we will take the appropriate corrective action should any issue arise.
Response to Enquiries
Our Company will respond appropriately to all enquiries from the individual in question regarding the disclosure, correction, or suspension of use of their personal information handled by us, or any complaints related to this information.
Continuous Improvement
Our Company strives to continuously improve our personal information protection management system by establishing management regulations and a management framework for the protection of personal information, ensuring that all our employees are thoroughly familiar with the system, and conducting periodic reviews of the system.
Enacted on April 26th, 2019
Revised on March 25th, 2021
Revised on December 15th, 2021
Revised on July 1st, 2022
NOMON Co., Ltd.
Representative Director and CEO Kei Yamana
<Inquiries about personal information protection>
Personal Information Inquiry Desk
Address: Personal Information Protection Manager
Kasumigaseki Common Gate West Tower
3-2-1 Kasumigaseki, Chiyoda City, Tokyo
Tel: 03-6822-9570
PrivacyMark
Our company received certification to use the PrivacyMark (PMark) by the Japan Institute for Promotion of Digital Economy and Community (JIPDEC) on June 7, 2022. The PrivacyMark system complies with Japan Industrial Standards regarding personal information protection (JIS Q 15001), assessing whether the enterprise has established a system for the appropriate handling of personal information, etc., and grants the use of the "PrivacyMark" as certification of this. Our registration number is 17004358 (01).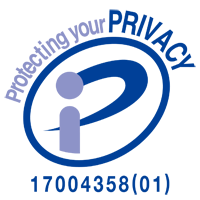 Personal Information Handled by our Company
Our Company is committed to the appropriate protection of all personal information based on our "Personal Information Protection Policy." The following information applies to personal information obtained or retained by our Company for use in our business operations.
(1)
Name of business operator handling personal information
NOMON Co., Ltd.
(2)
Name or title, affiliation, and contact information of the Personal Information Protection Manager (or agent thereof)
Personal Information Protection Manager: Information Security Manager
Email: info@nomon.jp
Phone: 03-6822-9570
(3)
Purposes of use of personal information and provision to third parties
1

The purposes of use of the personal information handled by our Company in the course of our business activities are as follows.
① Retained personal data
Types of personal information
purpose of use
1
User information
-Information regarding seminar viewing registration, mail delivery registration, and membership registration for websites operated by NOMON
*Registration for NOMON SHOP membership on the e-commerce site is described separately in the following section.
*Including activity record information (see comment)

・

Distributing and providing information about email magazines and other announcements

・

Organizing, managing, implementing, and providing information about events and seminars

・

Registering for membership on the website and providing various content

・

Providing information about the products and services of our company or affiliated companies

・

Running advertisements or promotions at our company or third parties

・

Sending gifts related to campaigns

・

Conducting surveys

2
User information
-Registration for NOMON SHOP membership on the e-commerce site
*Including activity record information (see comment)

・

Operating store services (e.g., delivering purchased products)

・

Providing related after-sales services such as fulfillment of contracts with customers and payment settlement

・

Identifying individual customers ・Sending gifts related to campaigns

・

Marketing analysis and surveys conducted by our company (e.g., purchasing behavior surveys, consumer preference surveys, IT-related surveys)

・

Running advertisements or promotions at our company or third parties

・

Identifying users by usage patterns, name, or address in order to refuse the use of our services by those violating the Shop Terms of Use or attempting to use our services for fraudulent or unfair purposes

・

When otherwise necessary for the smooth operation of our services

<For those who have selected "Receive notifications from the Shop">

・

Distributing and providing information about email magazines and other announcements

・

Organizing, managing, implementing, and providing information about events and seminars

・

Providing information about the products and services of our company or affiliated companies

3
User information
-Information regarding delivering products via shopping malls

・

Delivering purchased products

・

Identifying individual customers

・

When otherwise necessary for the smooth operation of our services

4
Client information
operational management, various forms of communication, billing, payment management, maintenance, identification, development and provision of products and services, advertising or promotion, transfer to other services, marketing analysis
5
Employee information
use for operations related to employee management (management of operations, labor, and human resources, operations related to payroll, employee welfare programs, etc.)
6
Hiring applicant information
use for operations related to hiring (providing information related to hiring, deciding whether to accept applicants, communication related to hiring operations, etc.)
7
Retiree information
communication with retirees and response to inquiries from retirees
8
Information on individuals making inquiries
response to inquiries
9
Information on individuals and their representatives
(when making requests for disclosure)
response to requests for disclosure
10
Other
in addition to the above, for individually specified purposes of use
*Note: Our Company may collect information on the activity history of customers through cookies and IP addresses. Customers may decline the use of cookies, etc., on our website by disabling cookies in their browser settings. However, please note that you may experience some issues when checking the usage status of various services if you have disabled the use of cookies.
Our Company also uses Google Analytics, an access analysis tool provided by Google. Google Analytics uses cookies to collect traffic data. The traffic data collected is anonymous and cannot be used to identify specific individuals. You can decline to have your data collected by disabling cookies, which you can do in your browser settings.
② Personal information besides those outlined in ①
| Type of personal information | Purpose of use |
| --- | --- |
| Personal information obtained through work outsourced to our Company | For contracts and related communications, to carry out work outsourced to us, perform follow-up work, etc. |
| Information obtained through recruitment websites | For making hiring decisions and informing applicants of the outcome of their application |
2

Except in the following cases, our Company will not provide any personal information in our possession to any third party without the prior consent of the individual in question.
・

If required by the Personal Information Protection Act or other existing laws, regulations, or guidelines

・

If we receive a legally binding disclosure request from a public body, such as the courts or the police

・

If the individual in question has given their consent

・

If our business operations have been taken over, either wholly or in part, due to a business transfer, merger, or other similar events

・

If doing so is deemed necessary to protect the rights, property, or services of our Company or a third party due to a customer's violation of laws, regulations, or our Terms of Use in relation to the use of our Company's or our partner's services, and it is difficult to obtain the consent of the individual in question

・

If doing so is necessary to protect the life, body, or property of the individual in question, our Company, a client, or a third party, and it is difficult to obtain the consent of the individual in question

・

In all other cases permitted under the provisions of the Personal Information Protection Act
(4)
Regarding the entrustment of the handling of personal information
Personal information obtained may be entrusted to external parties for purposes such as inquiries, product shipment, and aggregate management. When entrusting information, we will select business operators whose standards for protecting personal information meet the security measures established by our company, and will appropriately manage and supervise the business operators.
(5)
Joint use of personal information
Our Company may share the personal information of users with our business partners in the following situations.
・

For a business-related reason, such as to provide special services to users. In this case, we will request the user's consent before providing the information and will not provide it without their consent.

・

For purposes such as the preparation of statistical materials, market research, or data analysis. In this case, we will only provide information that has been processed such that it cannot be used to identify specific individuals.
(6)
Management of personal information
Our Company will maintain accurate and up-to-date personal information of users to the extent necessary to achieve our purposes of use, and we will make every effort to delete the personal information in question when it is no longer necessary.
(7)
Contact information for enquiries related to personal information
Please contact our [Help Desk] below if you have any complaints, requests, or enquiries regarding the handling of personal information, including the personal data in our possession.
(8)
Name of authorized personal information protection organization to which you belong and contact information for the resolution of complaints
Not applicable
(9)
Procedure for inquiries about personal data
We will promptly respond to inquiries about personal data in our possession from the person in question. Such inquiries may request notification of the purpose of use; disclosure; corrections, additions or deletions of information; suspension of use; erasure; suspension of provision to third parties; or records of provision to third parties. When we receive a request, we will respond within a reasonable period of time and to a reasonable extent after confirming that the person making the request is the person in question or their representative.
(10)
Method and address for inquiring about personal data
Requests for disclosure and other inquiries about retained personal data should be made to the following inquiry desk. Once we receive your message, we will send you our designated Request Form for Inquiries About Retained Personal Data by mail, fax or email. Please fill out the form and send it by mail, email, etc., enclosing any necessary documents. (You will need to cover the postage yourself.)
After confirming that the personal information belongs to you (or someone you represent), we will respond to the request by the requested disclosure method.
(11)
Measures taken to ensure the security of personal information
We have implemented strict measures for the care of personal information by establishing personal information protection regulations based on a personal information protection policy that complies with JIS Q 15001. We also operate a management system for protecting personal information.
To ensure the proper handling of personal information, we have implemented security control measures from four perspectives: organizational, human, physical and technical.

For more information on specific security control measures, please contact us at the following inquiry desk.
[Enquiry Help Desk]
Name of contact
Personal Information Enquiry Help Desk
Contact information
Person-in-charge: Customer Service Manager
Address: Kasumigaseki Common Gate West Bldg., 3-2-1 Kasumigaseki,
Chiyoda-ku, Tokyo
Phone/Fax: 03-6822-9570 / 03-6822-9571
Email: info@nomon.jp